The India home automation market size was valued at $1,790.9 million in 2018, and is expected to reach at $13,574.1 million by 2026, growing at a CAGR of 29.8% during the forecast period 2019-2026.
Smart home refers to homes with appliances such as electronic devices is controlled or operated by user via smartphone or a mobile app. Smart device include appliances such as lighting devices, air conditioning units, ovens, refrigerators, audio & video entertainment systems, and cooling & heating units. The user monitors and controls the functions of smart home devices with home automation technology.
There are two types of home automation technology—wireless system and wiring system. The wireless system includes Z-wave, Wi-Fi, Infrared (IR), Bluetooth, and others. The wired systems include cabling for the integration of sensors and smart home systems in the home with internet cables and connectors.
The advantages of home automation are safety and security, convenience, low utility costs, and time saving. The main focus to implement home automation in India is security, and energy efficiency. The home automation technology allows to control the heating and cooling systems in home, which can save considerable energy. Moreover, lights can be automatically switched on or off during sunrise or sunset as well as while leaving or entering the respective room.
The cost effectiveness is one of the driving factors for the India home automation market. Multiple cities, especially Pune, and Mumbai, witness considerable growth in adoption of smart home system every year that are backed by various competitors, which offers home automation at a low cost, thus increasing the India home automation market scope.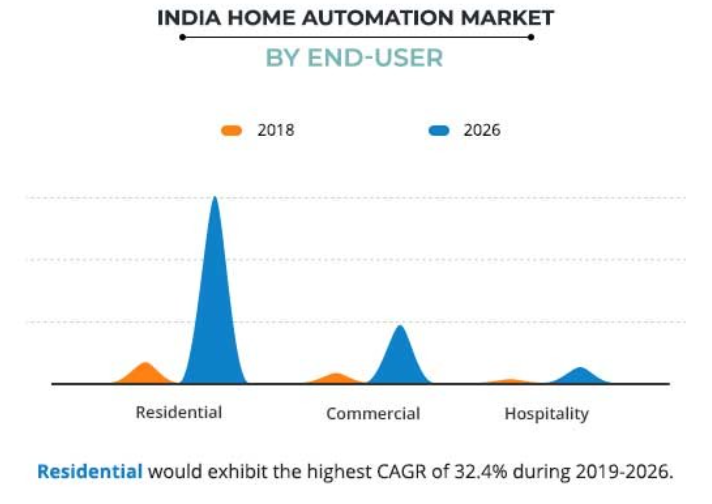 COMPETITION ANALYSIS
The key players operating in the market include Zemote, Fueb labs, Larsen & Toubro, Schneider, Johnson Controls, Harman International, Home Brain, PERT, Silvan Innovation, Oakter, and Elan Home Systems. Many players in the India home automation market adopted product launch, product development, collaboration, and business expansion as their key developmental strategies to sustain the intense competition and improve their product portfolio.